I took this photo of a Moorish tile pattern at the Alcazar palace in Sevilla during a visit to Spain three years ago. Recently as I've been preparing for the Pattern For Everyone workshop, I have been noticing the underlying structure of patterns, not just the colors, shapes, or novelty motifs that grab my attention. The hexagon theme pops up a lot, since a hexagon is one of the few basic shapes that can tessellate, or fit together with a bunch of its hexagon buddies with no spaces in between them.
This turtle (RIP) is sporting a pattern of interlocking hexagons, squeezed a bit to fit into his or her oval shape, complemented nicely by a fetching border pattern:
The starfish (also RIP), if you look closely, has hexagonal pattern in the skeletal structure supporting it, lines radiating from the center of each one and interconnecting the whole thing, similar to the Moorish tile design.
However, if you look from the top, the structure modifies itself a bit to reflect the radial 5-pointed shape of the animal:
This pattern of interlocking hexagons is found in many molecular structures, too. Some British designers in the early 1950's ran with the idea, producing crazy home-furnishings textiles based rather literally on specific molecular structures. How about a dress of boric acid: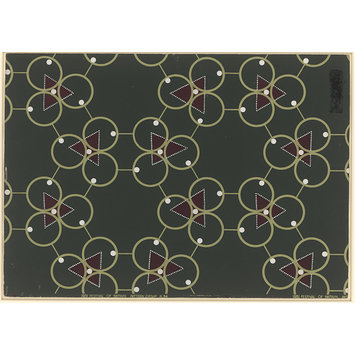 (images: Victoria & Albert Museum)

Or perhaps insulin, in which the hexagonal molecules, rather than interlock, are arranged in a half-drop pattern: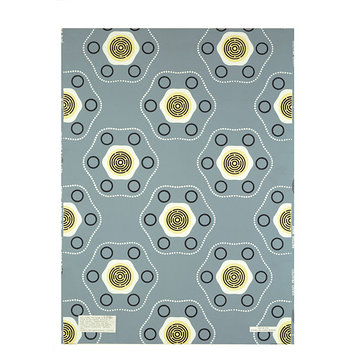 These designs and others like them were inspired by the new technology of x-ray crystallography, and were displayed at the 1951 Festival of Britain, a kind of post-war atomic-age art and science fair. You can see how they eventually gave birth to the more freeform "atomic" style.